"After I learnt them, I used just one technique the following weekend and shot my club's course record, a 63."
Scott Richards, PGA Pro, Truro
"I was a 29 handicapper, and used to get very down on myself. But after this I came 2nd in a field of 60, something I'd never done before."
Janet McKeown,  Garon Park
A new style golf book! Designed not to be read cover-to-cover, but "dipped into" in bite-size chunks. More a series of 123 full-colour, new-style graphics and charts, illustrated below. Check in contents for any of 40 'thinking faults", and go straight to a pictorial fix. For all handicaps.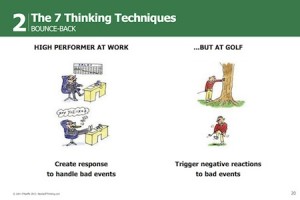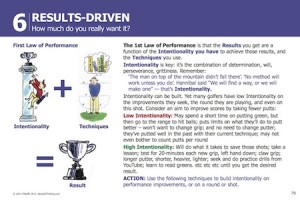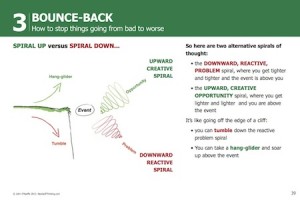 These new techniques
Will revolutionise your golf scores — the way the Fosbury Flop did for the high-jump
Fill the big gap between  technical improvement, and having to go to a psychologist for the rest
Solve your everyday problems like wasting shots because: you get upset; inconsistent; feel tense nervous or frustrated; lose concentration; good on range, not on course; good front 9, bad back 9:  can't put bad hole behind you; feel under pressure; things go from bad to worse for a time; when going well get worried the wheels will come off.
Instead, gain the 7 simple techniques of BOUNCE-BACK, RISE-TO-OCCASION, CAN-DO, RESULTS-DRIVEN, SELF-START, FRESHEN-UP and CLEAR-HEADED. Valuable for every golfer.
Field-tested successfully by UK PGA teaching pros and amateur golfers of every handicap.
Our vision is that every player, of any handicap, can easily become experts in the 7 techniques.
A golfer doesn't need a brain surgeon. Instead use simple techniques on how to think to yourself, which:
Will work at once: unlike a swing-change, which often takes time to work and after which things can be worse for a while, these techniques work at once. Even doing a little bit of just one will help a little bit. The more you do the better you'll score.
Each technique can be learned in under 10 minutes: and there is a visual to help you remember it.
Fill the gap every golfer needs to fill  between things that are "Technical" and the mysteries of  "Sports Psychology"
You practice the 7 Technical Techniques of Driving, Iron Play, Pitching, etc. Whatever your handicap, you will likely save more shots, easier and quicker, by getting expert at the 7 Thinking Techniques and save those shots you waste.
"And, at last, new thinking to fix slow play. The NGT Stop Slow Play Plan should be implemented broadly, now."
Colin Montgomerie